Ladies 3/4 Sleeve Prestige Shirt
Code: ALT-LPR-BL-3XL
---
Description
This sophisticated and eye-catching blouse is the perfect summer option for your office wardrobe and can be paired with smart black pants for a more formal look, or chinos and jeans for that casual appeal. Its features include, contrast check, topstitch detail, left chest pocket, ¾ sleeve with cuffs, front yoke with panel detail and side slits.Sizes: Ladies: (S - 5XL).
Size Selected: 3XL
Available Sizes: 2XL | 3XL | 4XL | 5XL | L | M | S | XL | XS |
Color Selected: Black
Available Colours: Black | Light Blue | Navy |
R 309
Excl. VAT
Checking Stock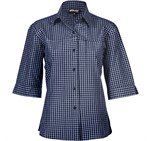 Our PROMISE
"We at Clothing Africa, pride ourselves on our unwavering service ethos, quality of products and reliability."